LTP News Sharing:
Try as they might to tell the rest of us what to do, the greens can't hide their hypocrisy. And the National Center is happy to help point that out.
Even though they claim the world is going to end in a dozen years unless average people radically change their own lives and unless the government imposes regulations that can stifle economic prosperity, the greens see no problem with jetting around the world themselves to climate confabs. Barack Obama is moving into beachfront property. Leonardo DiCaprio leased a mega-yacht.
And then there's Al Gore. Thanks to a National Center report – "Al Gore's Inconvenient Reality" by Senior Fellow Drew Johnson – the sage of climate change was recently named the biggest hypocrite of them all by both a sitting senator and former governor.
As an alternative to Global Climate Week, which the left observed by holding traffic jam-causing protests (that CAN'T be environmentally friendly!), U.S. Senator James Inhofe provided "a dose of reality" by giving out "Climate Hypocrite Awards" each day of that week.
Inhofe's infamous awardees included Michael Mann, Obama, Climate Summit participants and Congresswoman Alexandria Ocasio-Cortez.
But the top dishonor was reserved for Gore, whom Inhofe called "America's greatest climate hypocrite." The senator explained:
Whether it's Gore's chartered jets around the country or the fact his home uses up to 34 times more energy than the average American household, he's never wavered in his calls for everyone else to, "…make [environmental] changes in their own lives."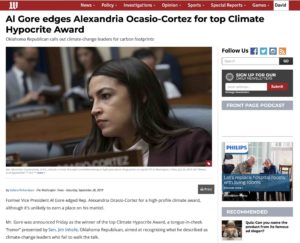 How did Inhofe get all this information on Gore? As the Washington Times reported:
Mr. Gore, who had no public comment on the jab, has been criticized for the energy demands of his 10,070-square-foot Nashville mansion, which in September 2016 burned through 34 times more electricity than the national monthly average, according to the National Center for Public Policy Research.
As Drew concluded in his report on Gore:
Al Gore has attained a near-mythical status for his frenzied efforts to propagandize global warming. At the same time, Gore has done little to prove his commitment to the cause in his own life. While Gore encourages people throughout the world to reduce their carbon footprint and make drastic changes to cut energy consumption, Gore's own home electricity use has hypocritically increased to more than 21 times the national average this past year with no sign of slowing down.
Similarly, Scott Walker – the former governor of Wisconsin and president-elect of the Young America's Foundation – wrote that "[t]he 'climate change' movement is full of hypocrites."
In a Washington Times commentary, Walker brought up some of the same examples as the senator did with his awards. While other examples were largely described in bullet points, Walker spent paragraphs on the example of Gore's home. And, to do so, he relied on the National Center's report.
Walker wrote:
Around the time Mr. Gore won an Oscar for the best documentary feature, the Associated Press reported that Mr. Gore's mansion in Nashville used more than 12 times the average amount of energy for a home in that area. That was his own inconvenient truth.

A decade later and Mr. Gore was still a hypocrite. He told Jake Tapper on CNN, "I live a carbon-free lifestyle, to the maximum extent possible."

An analysis by the National Center for Public Policy Research at the time found that Mr. Gore's mansion used more electricity in one month than the average family uses in 34 months. It noted that just the electricity used to heat the pool could power six homes for a year.

All of this after he installed new "green" updates. Ironically, the report says that Mr. Gore's home used more electricity in 2016 than it did in 2007.

Mr. Gore claims to "live a carbon-free lifestyle, to the maximum extent possible," really come from purchasing "carbon offsets" for the carbon dioxide related to the home. The report says that he pays $432 a month into a Green Power Switch program that helps fund renewable energy projects.
"Think about that," Walker noted," the next time you see a climate change protest on the news."
The post Al Gore Gets "Award" for Hypocrisy We Exposed appeared first on The National Center.
Go to Source
Author: David Almasi