Update Cartoon RTED By President Donald J. Trump Sept.25, 2020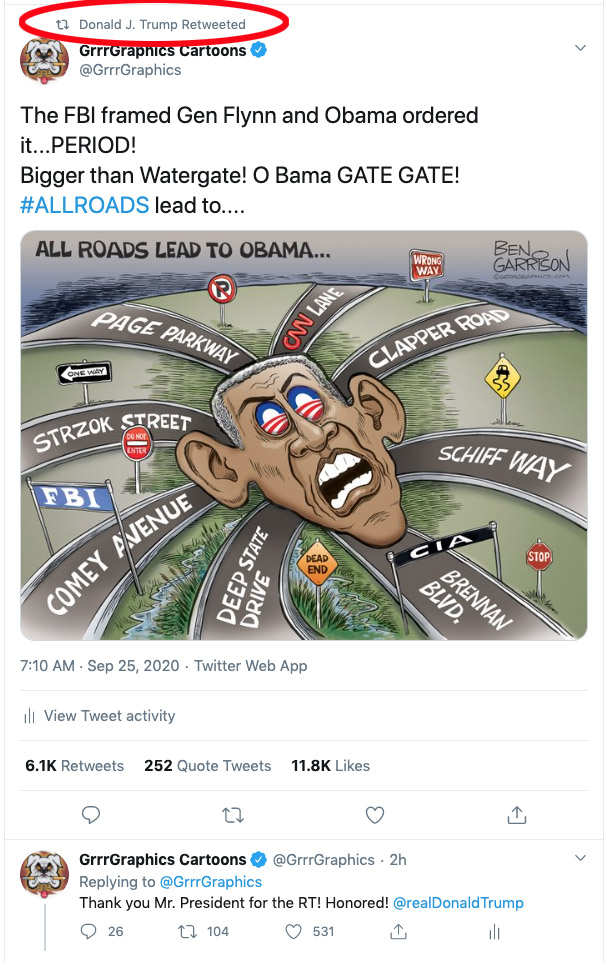 Obamagate
President Trump tweeted "Obamagate" on Sunday, but what Barack did was far worse than Nixon's transgression.
Obama used the FBI, the NSA and CIA to spy on Trump's campaign and then his presidency. Obama and the Deep State Swamp launched a coup attempt. They tried to remove a lawfully elected president from office based on fabricated evidence paid for by the Hillary campaign.
The entire Russia Russia Russia! witch hunt cost the taxpayers a tremendous amount of money, but the real issue is treason. FBI agent Peter Strzok and his FBI lawyer lover Lisa Page conspired against Trump through text messages. They both pushed the FBI to investigate General Flynn when no investigation was warranted. Obama fired Flynn because the general didn't approve of Obama's support for muslim terrorists including Iran and ISIS.
Obama did not want Trump to appoint Flynn as his National Security Advisor. Naturally Trump did just that, so Obama sent the FBI to entrap Flynn.
Adam Schiff may be the biggest traitor. The bug-eyed House Intelligence Committee chairman had nothing but leaks and lies to offer. He claimed he had concrete evidence of Trump's collusion with Russia. He had nothing. He even lied on the floor of Congress when he made up words Trump never said.
Comey is in the pocket of the Clintons. He also lied and leaked to damage Trump's presidency. The FBI knew the Steele Dossier was a pack of lies, but they used it to push through a FISA warrant and engaged Mueller in a long and wasteful investigation while CNN breathlessly fanned the flames of a Trump Russia conspiracy, when there wasn't even smoke, let alone a fire.
NSA Director James Clapper lied to Congress, when he said nobody was spying on the Trump campaign. Yet that's exactly what the security agencies were doing at the direction of Barack Obama.
All roads lead back to Obama and he's angry. He knows he's stuck, but he's become too used to sticking it to others. His arrogance caused him to claim Trump is a threat to the rule of law when in fact it was Obama who was running a coup and abusing the justice system.
He's a traitor.
LOCK HIM UP!
—Ben Garrison
PATRIOTS HELP PATRIOTS! STAY SAFE FOLKS AND KNOW THAT WE SHALL PREVAIL! 
Things are tough for everyone, if you have the means to send a donation please do, we are self funded- keep cartoons sustainable -Donate now at our Support Page or at our Pay Pal Me! Thank you!
Note: We are an Amazon Associate. Your purchases on Amazon via our links will support Ben and Tina's cartoons- At no extra cost to you! Please click and send some love! 
Amazon Home Page