LTP News Sharing:
Xi The Pooh slam dunks the NBA
Communist China is run by a tyrannical oligarchy that's headed by the thin-skinned President Xi. He banned 'Winnie the Pooh' from China after dissidents said he resembled the cartoon bear. As a result, the meme bear is now routinely applied to him.
China has a penchant for basketball and the NBA plays exhibition games there. The players aren't allowed to have free speech when it comes to topics such as Hong Kong. The Chicoms are authoritarian control freaks. They want their social credit score system in America as well and Silicon Valley seems happy to oblige.
The NBA coaches could have set an example for freedom, but 1.4 billion fans in China are hard to ignore. It's a big market there. The left is all too eager to lambast Trump, but the left in the NBA will not criticize Xi and his brutality. It boils down to money. For the left, money always trumps freedom. President Trump criticized Warrior's coach Steve Kerr for pandering to China. Or maybe it was panda-er-ing.
The NBA also caves into China to protect Nike. They make billions of dollars in sales to the Chinese and they also pump a lot of money into the NBA through advertising.
To hell with the NBA.
We are ALL on the 2020 Front Lines! Victory with Weaponized MAGA Cartoons- Help support- Join us on Patreon- Click to view!
Americans must loudly criticize that organization for caving to tyrants. The Chinese are using companies and economic threats to control American culture. Rather than pandering, we must push back against the control freaks in China.
Kudos to South Park for having the courage to push back at China while the rest of corporate America caves to China's every demand.
—Ben Garrison
BEN GARRISON ORIGINAL ART- HELP GEAR UP FOR 2020 AND RESERVE YOUR HISTORIC ORIGINAL ART BY THE TOP POLITICAL CARTOONIST IN THE COUNTRY!
Reserve your art today!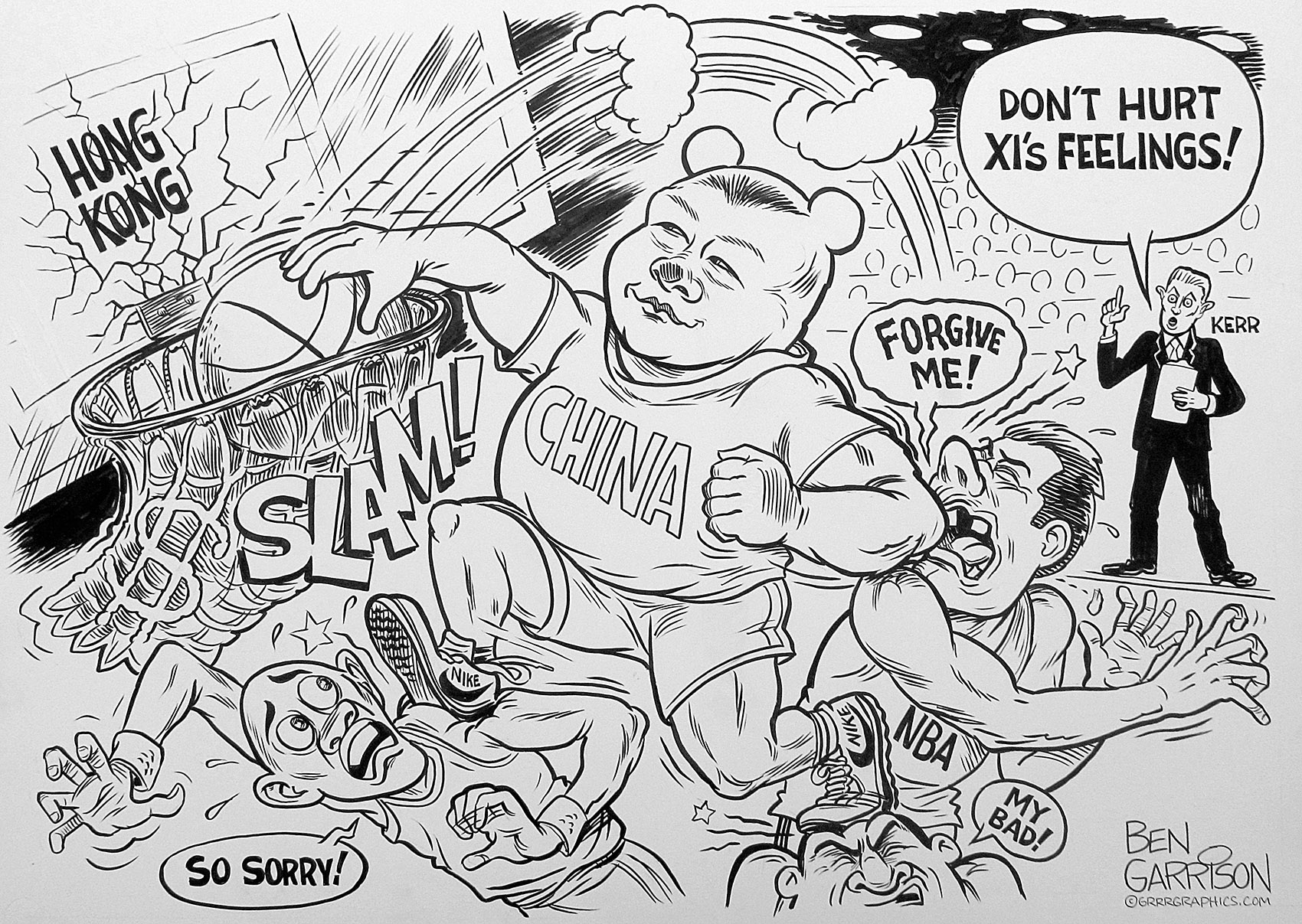 Join Ben and Tina at THE GARRISON Our Own MAGA online community! Try for free for 14 days! Only $4.99 a month after that- Great way to make a recurring donation to support MAGA Cartoons! Cancel anytime. 
Click to start today! 
Tweet
Go to Source
Author: Tina Garrison